Hammer (ハマー Hamā), whose real name is Hiromitsu Hamawatari (浜渡浩満 Hamawatari Hiromitsu), is a hip hop ninja who lives in the attic above Jaguar and Piyohiko's room. He wants more than anything to be cool and popular, but goes about it in a way that always ends in failure and humiliation. He is voiced by Katsuyuki Konishi in the OVAs and Drama CDs.
Personality
Edit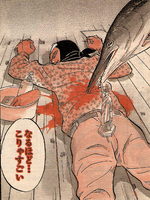 He is known for ending his sentences with
YO
, adding -dono to people's names, and referring to himself in the first person as
Sessha
(拙者, an archaic word for "I"). Despite this, he refuses to admit he is a ninja, because it would be bad for his trendy image.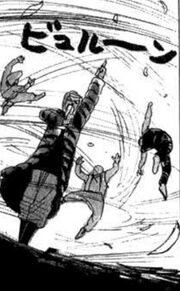 Appearances in Other Media
Edit
Pyuu to Fuku! Jaguar: The MovieEdit
Hammer appears in the 2008 live-action film Pyuu to Fuku! Jaguar: The Movie, which is a retelling of Piyohiko and Jaguar's first meeting. Hammer is portrayed by Hiroaki Ogi.
Drama CDs
Edit
Hammer appears in the Drama CDs.
Community content is available under
CC-BY-SA
unless otherwise noted.